Nice to have you here, Cathleen Sacheus
We are happy to welcome Cathleen Sacheus as an IT intern to the bob family. As partner of B360 Educations Partnerships bob Finance is committed to knowledge building in southern Africa.
Thank you, Cathleen, for the insight you are going to give us during this interview.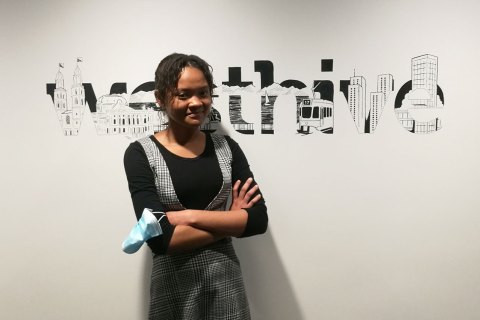 What is your background and what is your field of study?
I was born and raised in the capital of Namibia, where I studied Computer Science and majored in software development. Namibia is made up of many cultures, I am part of the coloured community therefore I natively speak Afrikaans. From a very young age, I saw my mum standing tall against all the challenges life threw at her. This encouraged me to always do my best even when circumstances are not ideal which is the reason I am here today, alive and well in Switzerland.
Why did you decide to do an internship in Switzerland?
I applied for this program on impulse, never expected to get it, to be honest. However, I am extremely thankful to have this opportunity. As Switzerland is more advanced technologically compared to Namibia, I will be able to gain a lot of skills in a short period and implement them when I go back. The weather, awesome transport system and beautiful landscape also attracted me to Switzerland.
From a very young age, I saw my mum standing tall against all the challenges life threw at her. – Cathleen Sacheus
What is the biggest challenge for you in a foreign country?
I got lost a couple of times while taking the train, but I would say the biggest challenge is the language barrier. Before I came, I had tried learning some German, but it wasn't much help. Because of this barrier, I've spent a lot of time during lunch or dinner awkwardly staring into space as everyone around me speaks Swiss German.
What are you currently working on?
Currently, I am building a business to partner communication system to inform all partners about general topics and send news about certain events. Working alongside helpful and patient mentors on this project has already provided me with some useful practical skills. I am sure by the time I leave, I will have very valuable experience under my belt.
What are your plans for the future?
I plan to find a front-end job in Namibia while doing remote work overseas. My skill set at the moment is very immature, I still have much to learn, this internship has provided me with a great stepping stone to the never-ending world of technology. Outside my career, I want to see more of the world, especially Scandinavia. In general, I prefer to stay open and optimistic about whatever opportunities and challenges may arise in the future, so my plans are flexible.