Welcome to the bob family, Desmond
We are happy to welcome Desmond Somseb as an IT intern to the bob family. As partner of B360 Educations Partnerships bob Finance is committed to knowledge building in southern Africa.
Thank you, Desmond, for the insight you are going to give us during this interview.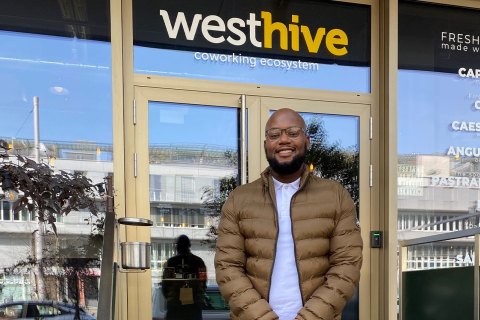 What is your background and what is your field of study?
Desmond Somseb is my name. I am a Damara from Swakopmund, Namibia. I come from a small family that consists of me and my grandmother, who raised me since I was two years old after my mother passed on. My hometown's Namib High School was where I went to high school. After graduating from high school, I applied to Namibia University of Science and Technology (NUST) for a bachelor's degree in computer science with a specialization in Cybersecurity and I am currently in my third year of studies.
Why did you decide to do an internship in Switzerland?
I was looking for valuable business experience in a professional setting. My research revealed that bob Finance was a company that provided this chance. This, as well as the cultural and social experiences I am always eager to have, were the driving forces behind my decision to undertake an internship in Switzerland.
"My goal is to obtain a master's degree in digital forensics" – Desmond Somseb
What is the biggest challenge for you in a foreign country?
When I arrived in Switzerland, I had several challenges, including language, culture, personal life, work life, and travel logistics. The logistics of travel, in my opinion, is the most difficult of them all. Each trip necessitates thorough research, and given the effectiveness of the transportation system, even being a minute late to a bus stop might result in significant changes to a travel itinerary. However, the SBB program, which prepares travels for you from your home to your destination's entrance, has alleviated this problem.
What are you currently working on?
I'm testing the security of a web application for bob credit customers. Vulnerability and security scanning, as well as penetration testing, and risk assessment are the procedures I am making use of. The primary goal of the security testing is to assess how susceptible the web application is and whether its data and resources are secured from unauthorized access.
What are your plans for the future?
My goal is to obtain a master's degree in digital forensics. In addition, I intend to obtain more cybersecurity credentials. When I start working, I plan to work in the business, military, legal, or finance sectors. With the experience I'll receive from this work, I'll be able to advance to the position of Computer Information Security Officer. In the long run, I hope to get more expertise and make a difference in Namibia, which is still a developing country with plenty of space for growth in the cybersecurity field.